How To Incorporate Food Into Sex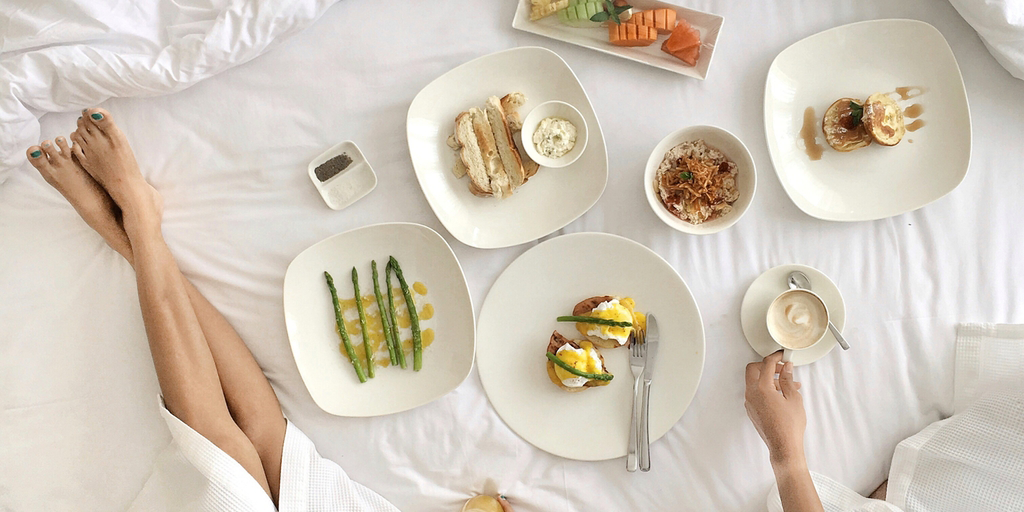 We imagine a sexy bedroom scenario, feeding your lover strawberries, or covering them in whipped cream or chocolate sauce. But, how do we really go about it? And aren't things going to get… messy?
Keep things sweet
As for choosing your food, the best food in the bedroom tends to be of the sweet variety. "Fruits are sensual and perfect for hand feeding your partner," said sex expert and author Antonia Hall. Pair strawberries and raspberries with whipped cream, chocolate sauce or honey, which can be licked off of each other.
Stay away from fish
First, the optics. But also… it's raw fish. Sushi rolls can be an erotic food, but be careful. "I'd stick with cooked rolls for safety," said Hall.
Ouch!
Also avoid spicy foods, which can burn the skin and be a serious mood killer, said Hall. Anyone who has touched their eyes after eating some Nashville-style hot chicken knows that… now imagine the same sensation down below.
Something you love
"Some of the most common food you'll hear about are strawberries and whipped cream and chocolate, but if you are just playing with eating the food while being sexy then it really doesn't matter as long as you love that food and you love the way it's being fed to you," said Coach Lex, a certified sex coach.
Think of health concerns and allergies
However: "If we are talking about food that is going to be applied to the genitals, especially the vulva, you have to be sure to avoid sugars and other elements that can affect the microbiome of the genitalia," said Lex. So no applying chocolate, whipped cream or any syrups directly on to your partners genitals unless the label clearly says it's designed for that purpose or you want to give your partner an infection.
Oral issues
The other thing to consider is giving oral after all this food. "Certain foods will make your bodily fluids taste worse or better," said Coach Lex. Dark green veggies (especially asparagus) and any dairy products will negatively impact your taste and smell. Sorry to those who think mac and cheese is really sexy.
Smelling good is the trick, too
Meanwhile, fruits that are high in citrus can positively impact your taste (this is the famous pineapple trick). "The tricky part with this is figuring out the timing because everyone's rate of digestion is different and changes depending on the content of the meal," said Coach Lex.
But proceed with caution
"For me, adding food into your sex life can be a risky endeavor," said Robert Kandell, author of unHIDDEN – A Book for Men and Those Confused By Them. "Every person has a different relationship to adding it to your playtime in your bedroom. We think adding cool-whip can be sexy but the one time I used it, my partner had an allergic reaction to it!" A total downer! "So, I would recommend DISCUSSING your desire for adding food before surprising your partner," said Kandell.
Of course, you can just use food to up the mood, instead of being part of the fun. "I also recommend an amazing cook book called InterCourses. This is food to help you get into the MOOD which is more fun that taking the risk!" said Kandell.