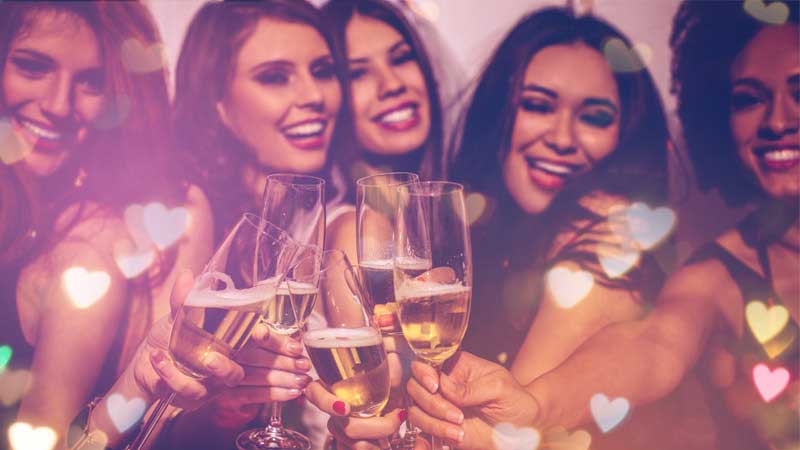 Wedding season is just around the corner, and so are countless parties celebrating the impending nuptials. The bachelorette party is prime time to plan a last hurrah and wild night-on-the town the bride-to-be won't soon forget once she's said "I do." Here are the must-have items to bring out the bridal party's sexy side.
A Daring Outfit
Take the bride-to-be shopping for bachelorette attire that can double as a naughty treat for her new hubby after the big day. A lace bustier, flashy tiara and bright red stilettos will make sure the attention is all on her wherever the night may take the group. Add a Bride-To-Be sash and plenty of lipstick for good measure.
Party Favors
Sassy party favors are always in high rotation on bachelorette night, and ice-cube trays, cake, cupcakes and straws shaped like your favourite organ are a great cheeky décor addition. Present the bride with a basket filled with naughty and nice toys and treats she can pack with her for the honeymoon. Think edible underwear, scented candles, a book of sex positions, water-based lubricants, and the We-Vibe® 3 for her and her husband to enjoy.
Wild Games
No bachelorette is complete without some games that will make the bride blush. Play a few rounds of naughty truth or dare with the group before heading out for the night, and don't be afraid to spark some sensual conversation with some bold questions. Prepare a raucous scavenger hunt for the bar in which the bride has to work for her drinks as she hunts for items like condoms, credit cards and kisses from other bar patrons. Keep a disposable camera on hand to capture all the fun – just make sure the photos don't end up on the wedding slide show!
What's your must-have for an unforgettable bachelorette party? Tell us in the comments!