#PleasurePioneers: Joani Blank & Susie Bright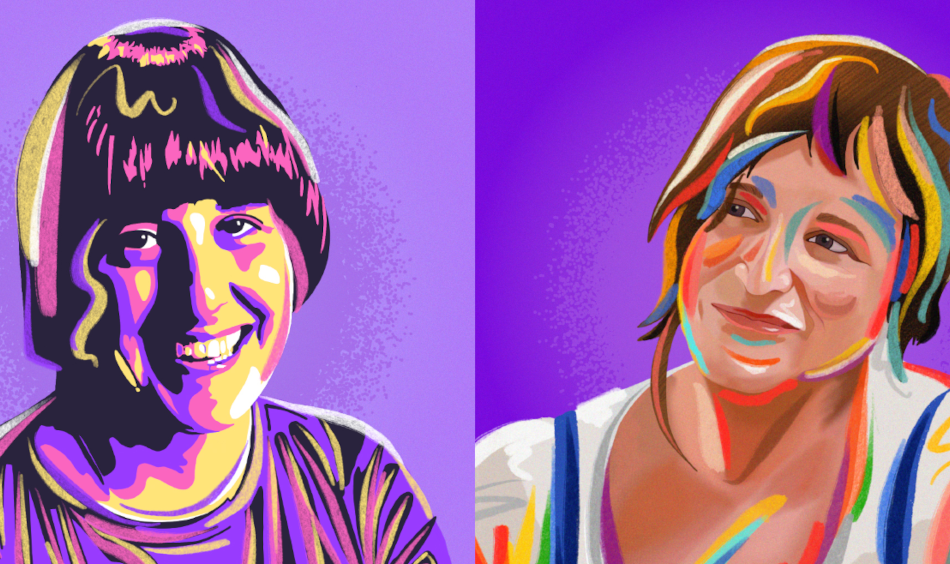 Artwork by @melany.pv
It wasn't too long ago that the only places where you could get a sex toy would be at some shady "sex shop" off the highway. At that shop, there was was usually a sketchy dude behind the counter and, as for sex toys, the pickings were slim.
But in 1977 that changed.
It was then that Joani Blank, a sex educator with a masters in public health, launched something that wasn't just necessary at the time, but very hard to come by: a feminist sex toy store. She named it Good Vibrations, but the store was far more than just another place to stop and grab a dildo.
As Lynn Comella, Ph.D., associate professor of gender and sexuality studies at the University of Nevada and author of Vibrator Nation, wrote in her article about Blank shortly after her death in August 2016 (she died of pancreatic cancer at 79), Blank's shop "with potted plants, macramé hangings on the walls, and a display case full of antique vibrators… part of the burgeoning women's district, the store, at the time, was gaining attention in the local press for its head spinning array of sexual products and the disarmingly charming woman who ran it."
That person, of course, was Joani Blank. But she wasn't just spinning heads with sexual products. She was also focused on education, and helping those who came into her store realize the importance of pleasure in a society that far too often avoids the topic of sex.
"Joani was working with noted feminist sex therapist Lonnie Barbach in the 1970s, who ran a 'Pre-Orgasmic Women's Group' project at the UCSF medical school —
a cross between a therapy group and consciousness-raising group," Carol Queen, Ph.D, Good Vibrations staff sexologist and author of The Sex & Pleasure Book: Good Vibrations Guide to Great Sex for Everyone, tells We-Vibe. What Blank realized from these groups was that women would never go into one of those places (the aforementioned shady sex shops) to buy themselves a sex toy.
"Joani decided to innovate the sex toy store to be as friendly as possible to women consumers — and by doing so, made it more comfortable for people of all genders and/or IDs to shop for sex products," Dr. Queen says. "Her basic innovations: carry the best quality stuff available, [then] hire and train staff who were informed about sex and could talk about it comfortably."
Enter: Susie Bright
Bright was one of the earliest Good Vibrations staff members. Bright, who was 21 years younger than Blank, brought a different energy to the store, but the same vision. As a lesbian sex writer, erotica editor, pornographer (appearing in her own shows to destigmatize the porn that's fed to the masses), and a memoirist, Bright brought a lot to the table.
"Susie Bright is one of the biggest reasons that we have a movement called 'sex-positive feminism'," Dr. Queen says. "Though not the only pioneer of this philosophy, she has been one of the best-known and most influential explorers of lesbian sexuality — and everybody else's."
Although Joani Blank passed away in 2016, Good Vibrations was left in great hands when she sold it to her coworkers. Dr. Carol Queen, the resident sexologist of Good Vibrations is a perfect example of someone who is continuing Blank's legacy. What Blank and Bright did in the realm of sexual education helped generations of people shake whatever sexual shame they had from their bones and not just encouraged them to embrace pleasure, but practice it regularly t
"If we drew a family tree of the sex-positive retail movement, Good Vibrations founder Joani Blank would be sitting at the top holding a Magic Wand and smiling," Comella tells We-Vibe. "Joani was a true visionary in every sense of the word, but I think one of the most important, and indeed radical, things about her was her willingness to share information with aspiring entrepreneurs who wanted to open businesses like hers. She genuinely believed that if more businesses were doing what Good Vibrations was doing — selling vibrators and talking openly and honestly about sex — then more people in more places would have access to accurate information about sex and be able to buy sex toys in a supportive and welcoming environment."
In other words, Joani Blank created something truly extraordinary with Good Vibrations, then Susie Bright came along and the two expanded Blank's vision and took things to the next level. Access to sex toys in such a safe, judgment-free, and comfortable place may have taken a few more decades to reach if it weren't for Blank and Bright. Or, even worse, we still might not even be there yet. Thank you, Joani and Susie, for leading the charge and advocating for pleasure.