14 Fun Ways to Get Pleasure from the We-Vibe Wand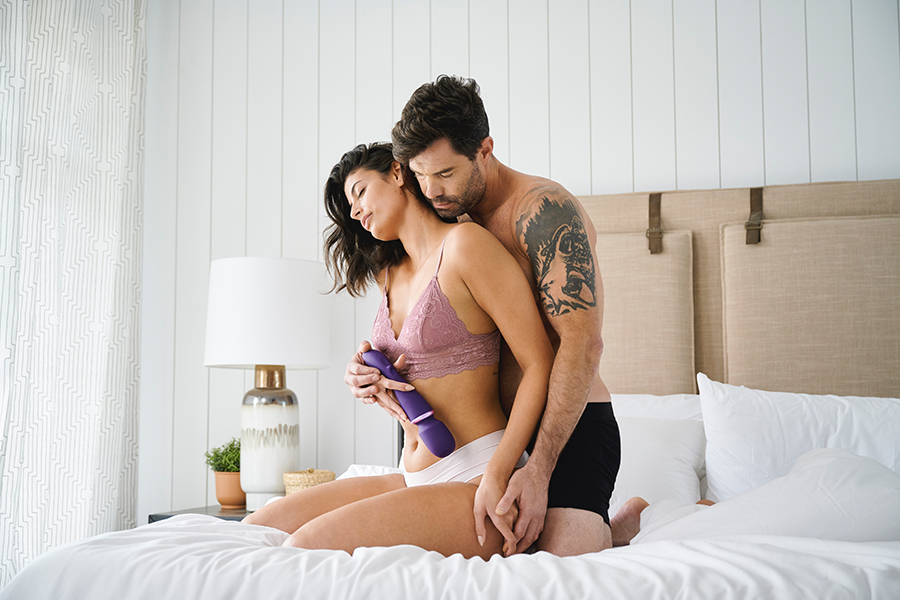 When massage wands were invented, they weren't designed to be used for masturbation at all. Soon sex therapist Betty Dodson discovered the orgasmic power of these rumbly wand massagers in the 1970s, changing the female orgasm forever. Since then, many companies have tried to make the perfect wand-style sex toy. Suffice it to say that the We-Vibe Wand is the best one I've come across (no pun intended). So, what are some fun and unique ways to get pleasure from your Wand?
I'm JC Way from the SexToyCollective, and today I'm looking at 14 creative ways to use the We-Vibe Wand!
1. Get frisky in the bath!
The We-Vibe Wand is 100% waterproof and cordless, so it's totally safe to use in the bath or shower to add some excitement to your daily routine! If you really want to go the whole 9 yards, try setting the mood with some relaxing music, some erotic candles, a glass of wine… hell, why not throw a couple of bath bombs in there while we're at it? The bathwater acts as a buffer between your body and the vibrations, so the sensation is carried through the water. This makes for more comfortable rumbles that are perfect for less-experienced users or those who just like to take it easy.
Contrary to popular belief, we don't all want our vulvas jackhammered to death 24/7!
2. Push yourself to the edge of orgasm
You might have heard of edging – pushing yourself to the brink of orgasm and then suddenly stopping any play, allowing the orgasm to subside and calm back down again. You push yourself to the "edge" of orgasm. Wand massagers are perfect for this kind of play because their sensations are so intense that it makes it hard to stop yourself when the pleasure is so bloody good! However, if you can keep taking yourself to the edge of orgasm with this toy, by the time you actually allow yourself to cum, the built-up waves of pleasure will make the orgasm even stronger.
3. Tease your partner
Whether your partner has a penis or a vulva, there are so many ways you can use the We-Vibe Wand to tease them in the bedroom.
For people with vulvas, try giving them a clitoral massage or using the "fluttering tongues" attachment to simulate oral sex by gently rubbing the attachment against their clitoris with water-based lube. Watch them squirm with joy!
For people with penises, try using the wand on the underside of their penis head or scrotum, if they can handle the intensity. Perhaps use the lower strengths in this case.
There is also a "male stroker" attachment for the Wand which you can use to stroke his penis with water-based lube while the wand adds in additional vibrations. They've really thought of everything with this Wand.
4. Try it with bondage and BDSM
If you and your partner like teasing each other with the wand, why not amp it up a bit? Try incorporating the wand massager into BDSM, bondage, and orgasm control with your partner.
My personal fantasy is to be helplessly tied to the bed, spread eagle, while my partner teases my body and massages my pussy with the deep, rumbly vibrations of the We-Vibe Wand.
At that moment when I can't take it anymore, he turns up the vibrations even stronger and I start rattling around on the bed, trying to escape as he forces me to experience the ultimate vibrating pleasure.
Ugh, sign me up.
5. Vibrate your favourite dildos
Do you have a dildo or a buttplug that you REALLY like? Maybe it's just the perfect shape, you love the feel of the material, or it's just the right size to hit the spot without getting uncomfortable?
Try using the We-Vibe Wand to vibrate your favorite dildo or buttplug, adding a whole new dimension of sensation when playing with your favorite toy.
The deep, rumbling vibrations really help penetrate to your core, and most sex toys (especially silicone toys) carry the vibes through them and straight into your quaking body.
Fun times!
6. Give yourself a (regular) massage
Long ago back in the 1960s, massage wands were actually designed for… well, massage. Not the genital kind, but for your body parts which were aching.
The We-Vibe Wand still works incredibly well for massaging sore and tired muscles after a hard day's work, especially if you struggle with back pain. Combine a hot bath with this Wand and believe me, you'll be as chill as it gets.
I've had many people tell me that when their family members found their massage wand, they assumed that it was for body massages like this. These wands can be nice and discreet like that.
I mean, it's better your mom finds a massage wand than a 10-inch dildo.
7. Make sex better
Next time you're taking it doggy style, try using the Wand on your clit for some incredibly intense stimulation which combines both internal vaginal and external clitoral stimulation.
It's similar to the "blended orgasm" you get from the best rabbit vibrators such as the We-Vibe Nova. Learn more about the rabbit vibrators from SexToyCollective.
There are many positions you can try this in, but doggy-style is undoubtedly the easiest. Play around with this combination of penetration and clit vibes. You might just squirt!
8. Spice up your make-out sessions
Sex is great and all, but I'm personally a huge fan of using toys when making out with your partner. I just think that a really hot make-out session coupled with vibrator play can be really arousing.
For example, try lying on your bed with your partner and hugging while you kiss on your sides. Now put the We-Vibe Wand in between your genitals and let it do its thing while you relax and enjoy the romantic moments.
It doesn't matter what sex you and your partner are – you can always find a spot that feels great for both of you.
9. Do it hands-free!
There are many places you can find sex toy mounts designed to hold dildos, vibrators, and massage wands in place. This way, you can mount your Wand and then grind against it sexually in whatever position you want hands-free.
That or you know… duct tape it to the bed.
Either way, being able to masturbate hands-free feels more like the real thing (at least in my opinion!). It also frees up your hands, allowing you to play with your nipples and rub your body erotically.
Great fun!
10. Give him an intense prostate massage
Do you enjoy giving your man a prostate massage? Done correctly, you can watch your man experience an intense, vulnerable orgasm as you gently stroke the male G-spot situated 2-3 inches inside his anus.
While using a finger or dildo for prostate massage, try resting your We-Vibe Wand on his perineum, also known as the "taint" or "gooch" between the butthole and testicles. This provides an external massage for the prostate, with the deep vibrations tickling his prostate on this inside.
Believe me, he will squirm with pleasure.
Even if your man is the type who doesn't want something inside his ass, this external prostate massage will be so hot that he might just change his mind!
11. Masturbate to music in perfect sync
Thanks to the We-Connect app, your Wand can respond to sounds and music with sound-activated vibrations. In most circumstances, this wouldn't be incredibly useful, but it's brilliant when combined with music!
Personally, I like to put on some Marvin Gaye, dim the lights, and have a nice relaxing pleasure session with those chill downtempo beats. Something about the synergy of the beat with those rumbling pulses just really rocks my world.
On the other hand, you might enjoy syncing up sound-activated vibrations with some uptempo house beats or dance music, really zoning out and feeling the music pulse through your body erotically.
Hell, if you're feeling brave, you might wanna try it with Slayer or Arch Enemy.
12. Explore your erogenous zones
You've got so many pleasure zones on your body, so don't stick to your genitals so much! Try exploring different parts of your body with the wand, teasing your erogenous zones and heightening your overall sense of arousal.
Popular erogenous zones include the breasts, nipples, back, neck, perineum, feet, and the anus. Nipples are especially good for this kind of play – did you know that it's possible to have a nipple orgasm just from nipple stimulation alone? Even if you don't find an erogenous zone you like, getting naked and stroking this Wand up and down your body is a fun way to tease yourself and get in the mood.
13. Play with pleasure in public
Okay, so I'm into public play a little bit. I have an inner exhibitionist whose horniness needs to be satisfied… what can I say? However, this Wand is too big to be carrying around in your knickers all day.
So, what's a horny girl to do?
Personally, I like to drive to the grocery store, find a quiet spot in the parking lot, and play with the We-Vibe Wand while sat in my car. It's fun trying to keep my face straight while people walk past my car with their shopping carts!
Most of the toys designed for discreet public play are pretty small and wimpy, so I enjoy finding safe ways to use the Wand in public (or semi-public!).
14. Enjoy app-enabled quarantine cybersex!
Well, I had to talk about COVID-19 at some point.
Unless you've been living under a rock for the past few months, you're probably aware that we're undergoing a global pandemic with multiple quarantines and lockdowns across the world.
If you've been separated from your partner during quarantine, you can make the most of it by using the We-Connect app to have virtual cybersex with one another.
As long as you both have the app and a decent Wi-Fi connection, your partner can control your We-Vibe Wand remotely from their smartphone, flicking through the 10 vibration modes and strengths as they please without you lifting a finger.
Let's just say that it's made my nightly Zoom calls a lot more… vocal.
I hope you enjoyed this guide on 14 fun and creative ways to use your We-Vibe Wand for pleasure! No matter your gender or relationship status, this intense and versatile toy can be used to have fun in a wide variety of ways. I've told you about 14 of them – now it's up to you to figure out the rest!
If you'd like to read more sex tips, how-to guides, and sex toy reviews including our We-Vibe Chorus review, check out the Sex Toy Collective website or YouTube channel.