The Nova Idea with Dr. Jess O'Reilly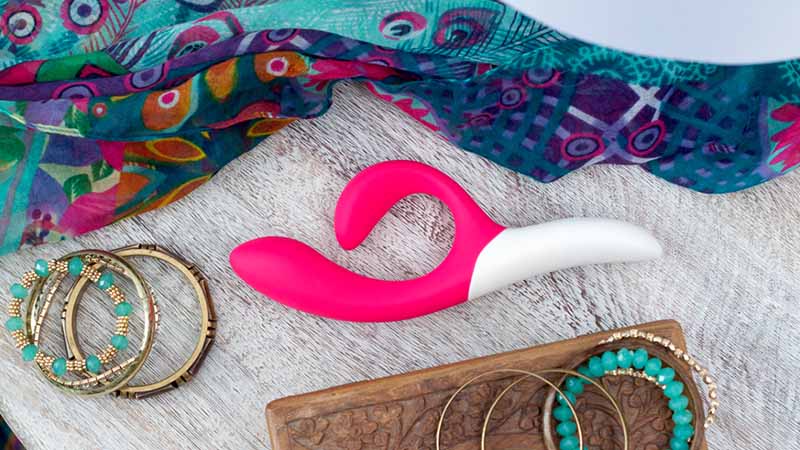 My friends at We-Vibe are full of novel ideas — from wearable vibrators to app-enabled toys that vibe to the beat of your favourite song, I'm always excited to find out what they'll come up with next.
When I heard that they were were creating a rabbit-style vibe, however, I was a little skeptical.
Most "rabbit" vibrators tend to over-promise and under-deliver. They claim to offer simultaneous vaginal and external clitoral stimulation, but their designs fall short in terms of both fit and vibrations;  I'm happy to report, however, that The Nova is a rare exception.
When I unboxed the Nova, I was immediately impressed by its design. It is quite different from other rabbit-style vibes and the external arm is long and very curvy, so I had to watch this video to gain a better understanding of how it works.
I took it for a quick ride and was thoroughly impressed. This hot pink powerhouse is full of rumbly powerful vibes and its external arm maintains constant contact with the external clitoris even when you thrust, grind and rock — I'm yet to find another rabbit-style vibrator that can do the same.
It's clear that their research team did their homework to ensure that the Nova delivers simultaneous stimulation of the internal G-Spot and external clitoral areas. For many of us, this dual stimulation can increase the likelihood of orgasm thanks to our complex system of nerves in the pelvic region.
Though physical proximity makes it difficult to discern exactly where your orgasm originates from a physical perspective, research does suggest that different areas are associated with difference nerves. Scientists believe that the pelvic nerve transmits sensations from the vagina, cervix and rectum while the vagus nerve which bypasses the spinal cord altogether, is believed to communicate signals from the cervix, uterus and vagina (including the G-Spot). The pudendal nerve carries information from the clitoris and the hypogastric nerve also transmits data from the uterus and cervix.
What does all of this beautiful science mean?
Ultimately it means that there are multiple routes to pleasure and the Nova's unique design allows for simultaneous activation of various nerve pathways, which has the potential to increase orgasmic intensity.
Hooray for bigger, better orgasms!
***
Consider these techniques for playing with the Nova:
Experiment with both thrusting and rocking movements — rocking may be more likely to lead to orgasm than thrusting on its own.
Try the Nova while lying your side so that you can squeeze your legs together around its rumbly arms. The external pressure and vibrations against your lips has the potential to reach the inner bulbs of the clitoris.
Alternate between deep and shallow thrusts to simulate the A-Spot (along the upper wall near the back of the vagina) and the G-Spot.
Train your partner to use the Nova on you so that you can sit back, relax, and enjoy the ride.
Use the Nova in the shower; combine it with running water for a solo quickie before work.
***
Note: I want to be clear that not every single person with a clitoris and a vagina will find that the Nova is a perfect fit — there are always exceptions. But it fits my body and dozens of my clients are thrilled with its results.
—
Jess O'Reilly (@SexWithDrJess) is a sex and relationship expert (PhD), author and TV personality. Her advice reaches millions each month via international media outlets including Showtime, Entertainment Tonight, Cosmopolitan, SELF, Maxim and Men's Fitness and you can catch her each week on Global TV's The Morning Show. In the past year alone, she has travelled to Turkey, Czech Republic, Poland, France, Italy, Austria, Mexico, Switzerland, Hungary, Jamaica, China, Thailand, Philippines, Canada and across the U.S. to work with high-power couples — including royalty and presidential candidates — to transform their relationships from good to great.