8 Tips to Make your Personal Space More Intimate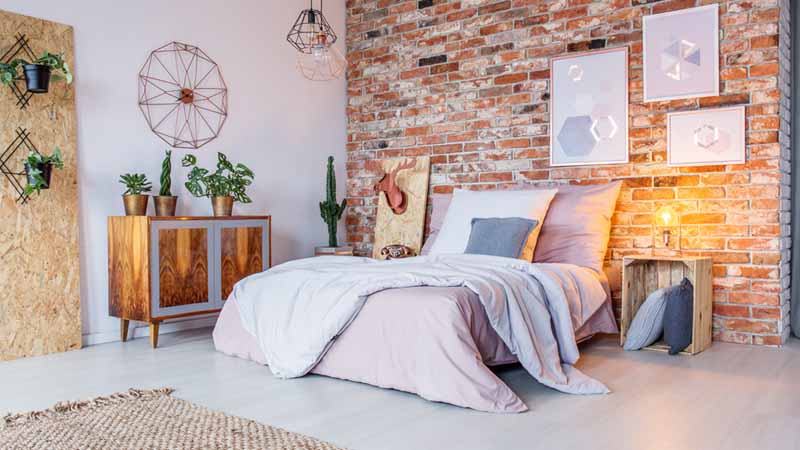 February is the perfect time to update your bedroom and convert it into a sensual space that promotes intimacy, eroticism and sexual desire. Whether you opt for minor tweaks or a complete overhaul of your existing space, we have eight simple suggestions to heighten all five senses and make your bedroom more sensual and inviting.
Pick perfect pairs
According to design experts, each element of your bedroom — from the shape of the room itself to the arrangement of throw pillows — can influence the intimate energy of your sensual space. One simple adjustment that may improve feelings of intimate connection in your bedroom involves the elimination of single elements in the room. For example, hang artwork in pairs to promote partnered energy and if you include photographs in your bedroom, ensure that they feature happy couples with whom you feel a positive connection. Similarly if you have a bedside table, balance out the room's energy with two nightstands and take advantage of the extra drawer space to store your favourite toys.
Invest in a lavender pillow
This one was a life changer for me! Lavender is associated with calming sensations and improved circulation which are both tied to various elements of sexual response. Sleepenvie offers lavender-filled pillows delivered to your doorstep. And if you're ready to take your rest and relaxation to a whole new level, consider updating your mattress to the Sleepenvie Hunter hybrid model that keeps you comfortable with cooling gel tech memory foam and is extra thick for those who tend to get a bit adventurous in the bedroom.
A good night's sleep is associated with a host of health and relationship benefits including lower stress levels, boosted mood, improved cognitive functioning, higher levels of empathy and heightened interest in sex.
Set the mood with music (it's simple science!)
Shift the mood in your room by creating custom playlists that reflect how you need to feel in order to be more intimate with your partner. The contagion hypothesis and associated research suggests that music sways our mood, as we tend to mimic what we hear in our environment. Music with heavy bass like Queen's We Will Rock You, for example, tends to evoke feelings of power and control and listening to your favourite music can produce similar emotional reactions as consuming fine food or even drugs. This is because music can activate the reward and motivations system of the brain resulting in chemical reactions including dopamine spikes.
Breathe in sensual scents
Human attraction is scent-driven and a range of research connects various scents with arousal and blood flow. The aroma of peppermint, lavender, liquorice and even donuts can help to set the mood and what better way to heighten your olfactory response than via an aromatherapy diffuser and essential oil collection. The Everyone Aromatherapy Ultrasonic Diffuser from EO Products makes it easy to add scent any space with pure essential oils.
Relish in a nightly digital detox
If you have the luxury of sleeping in a bedroom that is separated from the rest of your living quarters, be sure to take advantage of it and make it a tech-free zone. I suggest that couples ban personal devices (e.g. cell phones, laptops and tablets) from their bedroom and if they live in a multi-level home, I strongly encourage them to limit these devices to the main floor exclusively. Don't even let them creep up (or down) the stairs to your bedroom, as they detract from focus and intimacy even when they're in silent mode.
My husband and I struggled with technoferencein the bedroom for years and it took us months to transition our bedroom to a tech-free zone, but it was well-worth the effort in the end.
Reap the rewards of silk pillow cases 
Reduce friction and make every night a sensual indulgence by sleeping on silk pillowcases 365 days a year. You don't need to get frisky to experience a sensual moment — sometimes crawling in to silk sheets is enough to create a physical and erotic connection. Long fibre mulberry silk pillowcases from The Hollywood Silk Solution not only feel amazing but have the added benefit of reducing bedhead.
Bring something home from your favourite hotel
Whether you stash away a favourite lotion (I love Fairmont's Le Labo products) or splurge on Le Germain's goose down duvet, injecting an element from your favourite hotel into your bedroom offers a sense of escapism and luxury. Research suggests that sex in hotels is more frequent and satisfying, as you're less distracted by clutter, family, daily responsibilities and routine. Hotels tend to design their rooms with all five senses in mind, so take a page from their book and consider how you might rearrange your bedroom as a retreat from the responsibilities of daily life.
Update your lighting
You have a range of sensual options in the lighting department that involve simple updates to your existing room: pick up a single red light bulb to set the mood, update your light switch to a dimmer, toss a silk scarf over a lampshade to soften the light or simply light a scented candle a few feet from the bed. You may also opt to play with shadows on the wall or download a mood lighting app on your tablet (you'll need a separate one that isn't connected to your email or social accounts thanks to #5 above!). The options are endless — simply make an effort to avoid fluorescent lights and overhead light sources, as they can be harsh and kill the vibe.
—
Jess O'Reilly (@SexWithDrJess) is a sex and relationship expert (PhD), author and TV personality. Her advice reaches millions each month via international media outlets including Showtime, Entertainment Tonight, Cosmopolitan, SELF, Maxim and Men's Fitness and you can catch her each week on Global TV's The Morning Show. In the past year alone, she has travelled to Turkey, Czech Republic, Poland, France, Italy, Austria, Mexico, Switzerland, Hungary, Jamaica, China, Thailand, Philippines, Canada and across the U.S. to work with high-power couples — including royalty and presidential candidates — to transform their relationships from good to great.