Our Latest Vibe Was Totally Your Idea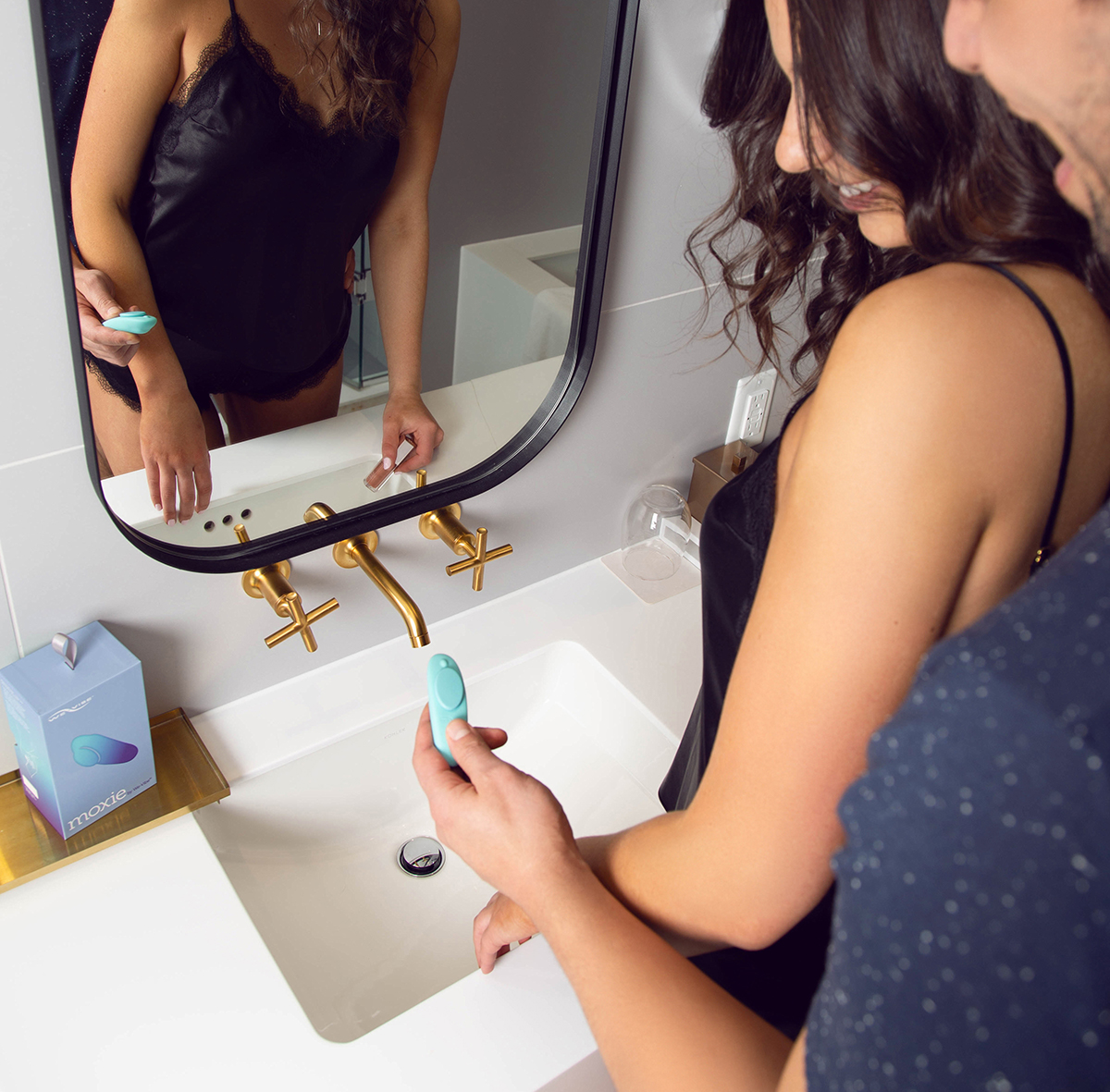 Meet Moxie, our newest toy: a wearable, app-controlled vibrator that you wear under your clothes. Think teasing, rumbly vibrations you can take with you wherever you go. Seriously, anywhere. 
And it's a lot of fun. Especially if you let your partner take the controls. Seriously — your weekend trip to the grocery store just got verrrry interesting (who realized how erotic the produce department could be?).  
And it was all your idea. (Thanks for that.)  
The big idea 
Something interesting happens when you put an idea out into the world. People can take it and do whatever they want with it. It doesn't matter what you think they're going to do, there's a good chance people will surprise you.  
Which is precisely what happened with We-Vibe® Sync™.  
We created Sync to be our best ever couples vibrator. Rumbly vibrations, flexible custom fit, app-enabled controls, long-distance connectivity. Everything we thought you could want.  
But it turns out we were missing one thing.  
Portability. 
We sent Sync into the world, expecting it to work its magic in bedrooms everywhere.  
And it did (boy, did it ever). BUT. It also worked its magic in bars and boardrooms everywhere.  
For real. We started hearing your stories — all the adventures you were having with your We-Vibes. The fun you had out and about — which led to even more fun when you finally got home.  
We were thrilled for you — of course. But we also knew that if you wanted portable vibrations, we could give you a better option. The best wearable vibrator ever.  
Not all portable vibrations are created equal 
That thing we were just saying? About the best remote-controlled vibrator ever?  
Enter Moxie. 
Rumbly vibrations: check.  
App-controlled: check.  
Long-distance connectivity: check. 
Ultra-portable: check, check, check.  
Plus: it's whisper-quiet, totally discreet, and completely comfortable whether you're walking, standing, sitting or lying down.  
Sure you can hack your own wearable vibrator — and have fun doing it, for sure. But you're also risking all kinds of awkwardness — vibrations so loud your colleagues are asking "Whose phone is that?" A bullet vibe that migrates further away from your sweet spot with every buzz. A connection that drops as soon as you move more than 3 feet from your partner.   
Not on our watch.  
We designed Moxie with a few little extras specifically to avoid every single one of those disaster scenarios: whisper quiet vibrations that tease in all the right ways; a unique magnetic clip that keeps Moxie in the right spot, hidden away under your clothes; and Bluetooth-enabled controls, so you or a partner can control Moxie from anywhere. Anywhere.    
Whether you're across the globe or across the table, this is the thing to spice up (and that may be an understatement) date night, be it digital or IRL. Long distance lovers, take note. It's all of the adventure, none of the risk. Okay, maybe a tiny little bit of risk — because that's what makes it fun, right? 
Again, thanks for the idea. And you're welcome for Moxie.