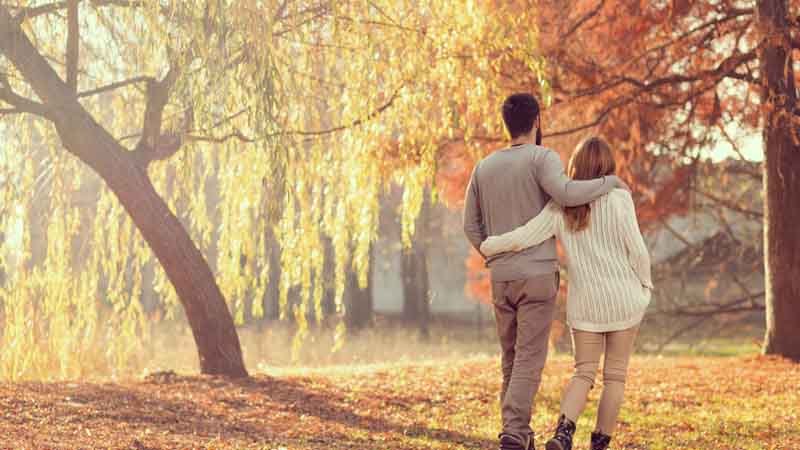 Autumn has arrived. The leaves are changing, the temperature is dropping, and romance is in the air. Time to cuddle up enjoy the slower pace of fall.
Here are our top 10 date ideas for the season.
Visit a pumpkin patch. After you've picked the perfect pumpkin, go home and carve it together. Don't forget to roast the seeds for a delicious movie snack!
The fall foliage is beautiful – get outside and enjoy it! You could go on a hayride, take a long drive down a treed road or get lost in a corn maze and linger a while together.
Raking the leaves is an inevitable fall chore…make the most of it and turn the piles into an impromptu outdoor date.
Finish up the indoor projects that were halted by warm summer weather. We suggest giving your bedroom a spicy makeover.
Enjoy a backyard bonfire. Snuggle up with blankets around the fire, star gaze, drink cocoa from a thermos and make some s'mores. And since its cooler, you won't be distracted by those pesky bugs!
Have a movie night. Grab your favourite fall flicks (think Ghostbusters & Hocus Pocus), lots of cozy blankets and pop corn right on the cob.
Enjoy an evening only lit by candlelight and warm fire.
Plan the perfect winter getaway. Winter is coming – snow, below zero temperatures, and dark days. Why not plan a winter escape to a tropical land and have something to look forward to, including vacation sex.
Explore a new town. Hop in the car and discover the town on the other side of the tracks – you may even find your new favourite restaurant.
Go shopping! As the temperature drops we tend to spend more time indoors….go shopping for something sexy to keep you satisfied all season long. Our recommendation is a We-Vibe product….or two.
Most of all, enjoy each other!