Mo Pleasure for Better Health with Dr. Ian Kerner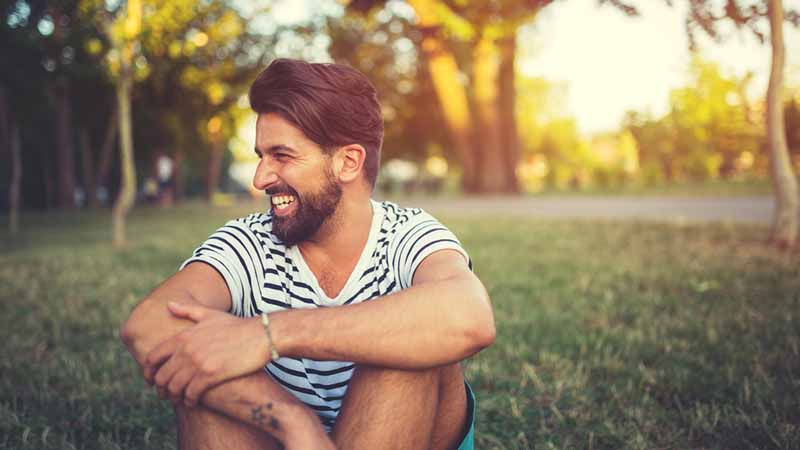 Five ways amping up pleasure boosts your wellbeing
Movember is a great opportunity to put pleasure at the top of the priority list and reap all of the benefits that healthy sex offers guys and their partners. As a sex therapist for nearly 20 years, I know that what happens outside the bedroom affects what happens inside the bedroom, but, importantly, the reverse is also true: healthy sex has benefits that contribute to a guy's overall wellbeing, his relationship and even the workplace. Here are five ways:
Reducing the risk of prostate cancer in men. Researchers have found that men who ejaculated 21 times or more a month were less likely to report prostate cancer than those ejaculating four to seven times per month. And when it comes to the prostate, sex (whether with a partner or with yourself) is an important form of preventative health as men who have undergone prostate surgery know that these procedures can often leave permanent scars on sexuality.
Being your best at work. In conversations with my colleague Helen Fisher, a biological anthropologist, she has shared her observation that the release of the neurotransmitters and hormones that come via sex, such dopamine and oxytocin, help keep you alert and focused at work, as well as enhancing creativity and collaboration. Sex also releases the hormone prolactin and decreases cortisol levels (a stress hormone), leading to better sleep. Additionally, I've observed that men who have sex regularly with their partners have higher levels of self-esteem that transfer into the workplace and are less prone to anxiety, stress and even infidelity.
Improving your relationship. Research has shown that couples who have sex once a week experience higher levels of relationship-satisfaction than couples who have sex less than once a week, and that sex has a positive after-glow effect that contributes to an ongoing sense of affection. Research has shown that the difference between couples who succeed in their relationship versus those who do not is the ratio of positive to negative interactions, and sex provides a big boost of positivity.
Sex is exercise. One of the themes of this year's Movember is to exercise and get moving and sex is certainly one way of getting active. On average, sex burns about five calories per minute, depending upon your weight. Even engaging your partner in a hot kiss boosts your heart rate, which in turn increases your body's caloric burn.  And if you're looking for a sign of your overall fitness, look to the quality of your erection. A strong erection equals a strong heart. Researchers studied 2,300 men and found that subjects with ED had a 58% higher risk of coronary heart disease, so if you're experiencing a change in erectile quality that could be a compelling reason to run, not walk, to a check-up with your doctor.
Sex is fun. We are currently experiencing a renaissance in the design of sex toys for women and men, and the latter is particularly exciting. Sex toys are a fun, creative way to play with your own sexuality or to expand sexual horizons with a partner. From couples vibrators that enhance intercourse to penis rings that provide stimulating vibrations for both partners (and may help men with erectile disorder and delayed ejaculation) to recognizing the prostate as a unique source of pleasure, there's never been a greater time to buy a quality sex from a company such as We-Vibe that offers a full line of top-drawer sex toys.
So this Movember, in in the spirit of prioritizing and honoring male health, maybe it's not an apple a day we should be focusing on to keep the doctor away, but an orgasm a day on your own or with a partner. And if an orgasm a day seems out of your reach, at least you can aim for the stars and settle for the moon.
This month We-Vibe has teamed up with Movember to change the face of men's health and help men live happier, healthier, longer lives.
Ian Kerner, PHD, LMFT, is a licensed psychotherapist and nationally recognized sexuality counselor who specializes in sex therapy, couples therapy and working with individuals on a range of relational issues.
Ian is regularly called on for expert advice in the media, with recent appearances on The Today Show, The Dr. Oz Show, and NPR. He also writes a bi-monthly sexual health column for Prevention Magazine, contributes regularly to CNN Health, and is the co-host of the Sex 2.0 podcast. He lectures frequently on topics related to sex and relationships, with recent appearances at New York University, Yale, Princeton, the Ackerman Institute, the inaugural Sex and Attachment conference in NYC, the International Congress on Sexuality and Relationships and the Psychotherapy Networker Symposium.