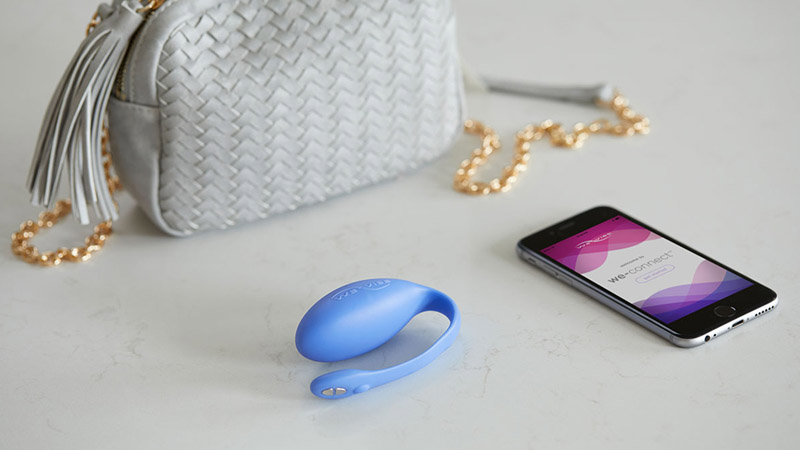 Usually, an afternoon spent running errands is less than exciting. Do I feel productive picking up my dry cleaning? Yes. Accomplished for mailing off those packages I've been meaning to for weeks? Sure. Sexually invigorated in the produce section of Whole Foods? Um, no… That is, until now. Let me take you through my first day of wearing what I affectionately call My Little Helper aka the Jive, address some of the concerns I had when I first considered handing over the reigns (aka We-Vibe app control) to my boyfriend, and share some tips for anyone who's ready to take their sex out in public.
Foreplay & Getting Set Up
I live in Manhattan while my boyfriend, A.C., lives in England and though we visit each other every few weeks, it's never really enough so we'd both been looking forward to this sexual adventure. Considering we're over 3000 miles apart, I have to admit I was a little nervous our connection may be too weak for this work but it turns out I was worried about nothing!
My Jive arrived the day before I planned to wear it out which was perfect because it gave us a chance to test it out a bit. As soon as I unboxed my new toy, we were able to get set up within five minutes – Success! That evening, we experimented with the different vibes and I shared those I enjoyed most. If you've used the We-Vibe app before, you know that you're able to create and save vibration patterns (so useful!) so we set up three of those to use the next day. It was time for A.C. to turn in (thanks, time difference!) so we giddily agreed to give my Jive its NYC debut the next day at 1:00 PM my time.
Out & About
I awoke the next morning to three sexy texts from A.C. – He was so into this! I had a bit of work to do first but enjoyed teasing him a bit about how much I was looking forward to our "date" later. Finally, one o'clock rolled around and, grocery list in-hand and Jive situated in place, I headed out…
I'd barely made it out of my building when BZZZZZZ! Ok, so the sound was in my head but the sudden sensation made me jump a little in surprise. After a couple seconds of feeling like everyone on the sidewalk must know what was happening between my legs, I realized I was being insane because of course, they couldn't (and even if they could, New Yorkers tend to be generally unfazed by anything). Still, I felt very risque and slightly paranoid as I continued on to the post office. Just as I entered the building, my boyfriend switched it off which was just as well considering I had to consult with a postal worker and would've found it extremely difficult to pay attention otherwise.
My agenda for the rest of the day included finding a gift for a friend at a boutique, picking up my dry cleaning, and grabbing a couple ingredients for my dinner later that night all of which I managed to do – and must say, all of which I enjoyed much more than usual – with My Little Helper along for the ride. I noticed that as I got more comfortable with the idea of all of this, my body relaxed and I was able to enjoy the surprise of the unexpected sensations. On the other end, my boyfriend was loving the idea of making me wet and insisted I treat myself to a glass of wine at a neighborhood bar before I headed home so that I'd really be able to enjoy it, undistracted by my errands. I happily obliged him – What can I say? I'm a good girlfriend!
At the bar, I settled into a comfy couch in the lounge area and ordered my favorite Malbec. I must admit that my boyfriend was correct – Sitting down with nothing to do but enjoy my wine and my vibes was pretty great. We even used the app to video chat (and yes, partake in some steamy dirty talk, etc.) which added a level of intimacy, despite the fact that I was still out in public. I'd made a point from the beginning not to get my hopes up too high about actually orgasming because I thought it might just be too difficult to relax (especially my first time wearing it out) but it turns out I didn't need to worry about that at all. In the middle of a bar, in the middle of the West Village, in the middle of the afternoon, I'm proud to say I got off. (Twice.)
Ok, so I'll admit I am a bit of an exhibitionist and perhaps the Jive is made for people like me but I genuinely believe this powerful wearable vibrator will be your new best friend, too, even if you're a bit more reserved. Here are some tips you might find helpful:
Test out the vibrations ahead of time.
Communication is always a part of the sexual pleasure and taking some time the day before to experiment with the different vibes allowed me to tell A.C. which vibrations were my favorite and which ones didn't really do it for me. In an attempt not to be a complete control freak, I told A.C. to surprise me with the vibes he chose to use but I think we both appreciated knowing that we had three go-to options.
Wear tighter pants, at least your first time.
While I had no issue with my Jive slipping out, it did cross my mind it might happen. I chose to wear yoga pants to ensure that there were no embarrassing moments which definitely helped ease my mind as I walked around.
If possible, find a place where you can relax with at least a little privacy rather than doing things that require too much of your attention or movement.
I can't think of better way than enjoying a glass of wine in a bar but, hey, get creative! Two places I'd like to wear my Jive next are the nightclub and the cinema (especially if I'm planning to see a romance movie… or maybe horror…)
Use the We-Vibe app's video function while you play.
While we hadn't planned to use the video, it definitely enhanced my and A.C.'s experience. Our live dirty talk was hot and A.C. was so turned on by my reactions that he pleasured himself on-camera for me (after setting the app to one of our saved vibes to ensure I continued to be taken care of, of course).
Have you tried out the Jive yet? Do you have any questions or concerns about it? Let me know and hope you enjoy it as much as we did!