Seriously, a Box of Sex Toys is the Best Gift to Give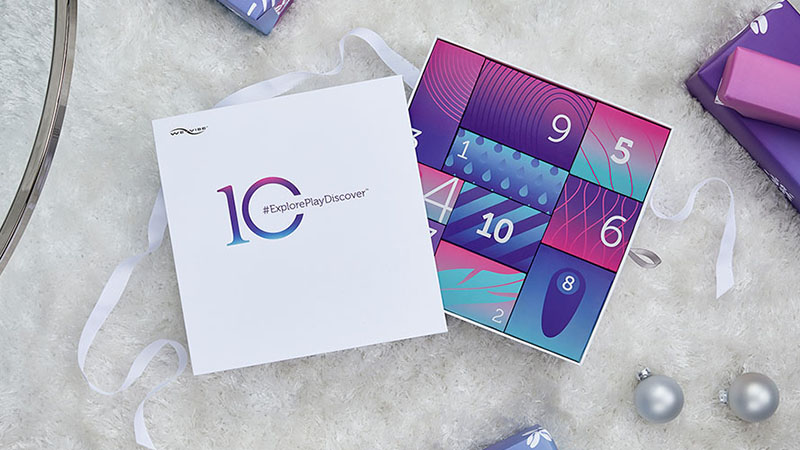 When it comes to holiday gift-giving, while quantity can seem like a good a thing, in theory, the reality is that quality trumps quantity every time. But, if you can somehow manage to get a gift that embodies quality and quantity, well, then you totally hit the jackpot.
Enter: We-Vibe's Discover Gift Box.
This year, We-Vibe wants you to explore, play, and discover with 10 goodies tucked into its Discover Gift Box. Each of the 10 boxes in the larger gift box offers a new adventure for either you and your partner to enjoy together or for you to enjoy solo. What sort of adventures are we talking about here? Here's what you'll find in boxes one from 10.
We-Vibe® Lube:

Made by pjur® and water-based so it's a match made in heaven for silicone toys, there's a good chance that this might become your new favorite lube. Never forget: whether you're having vaginal sex, oral sex, or anal, wetter is always better.

Tickler:

There's nothing quite like being teased with a feather tickler – especially if you're tied up and blindfolded. When you take away one or more senses, other senses are heightened, therefore making the Tickler ideal for foreplay.

Tango by We-Vibe™:

Considering the fact that 75 to 80 percent of women need clitoral stimulation to climax, Tango, although small in size, delivers when it comes to power and intensity. It can also be used on other parts of the body: the vulva, perineum, nipples – or spots that aren't sexual. Tango can even work a kink out of your neck after a long day – and it's small enough that you can bring it with you everywhere and anywhere you go.

Sexy Dice:

If you and your partner are into exploration, but aren't sure exactly how to get started, then you need these sexy dice. From kiss, to suck, to blow, to lick, to thighs to even more body parts, these dice get a dialogue started about wants and needs and, if all goes well, the sharing of sexual fantasies will follow.

Special Edition We-Vibe® Couples Vibrator: When We-Vibe launched their first couples sex toy years ago, little did we know at the time that not only would they start something that many other brands would try to duplicate, but that they would change the sex toy industry for the best. This Special Edition couples vibrator

, in its sexy hot red, is shaped in such a way that it stimulates both the clitoris and G-spot when worn during an intercourse.

Kegel Ball:

As my gynecologist told me when I was 18, you're never too young to start

doing your Kegel exercises

. Although Kegels are often thought of something that older women do or women who have had children, nothing could be further from the truth. Kegel exercises are for all women, especially those who are sexually active. For starters, they strengthen the pelvic floor, leading to more frequent and more intense orgasms. So if that isn't a reason to start making Kegel exercises part of your daily regime, then I don't know what it is.

Massage Candle:

Not only are candles great when setting the mood but when they double as massage oil, then even better. Massages are great for foreplay and because they get that oxytocin pumping, it helps to arouse women. And, considering it takes women at least 20 minutes to become fully aroused, all forms of foreplay, massages or otherwise, are fantastic and will make for an even better sexual experience.

Womanizer™ Starlet:

What do you get when you combine We-Vibe and

Womanizer

? Magic. If you've yet to try anything by Womanizer, then lucky you that We-Vibe includes it in its Discover Gift Box. Although it's definitely a sex toy, it's not exactly a vibrator. Instead, Womanizer uses patented Pleasure Air™ technology that creates more of a suction sort of sensation. Some women actually compare it to what oral sex feels like. In fact, Womanizer is so successful in producing orgasms that it's being used

to treat women who struggle to orgasm

in clinical trials.

Dusk by We-Vibe®:

If you've been flirting with the idea of anal play, Dusk is a great place to start. Open up box #1 and grab the lube (you want it wet AF for anal), then open box #3 and grab the Tango vibrator (you want to be relaxed by stimulating your clitoris), take a deep breath, and go for it. Anal exploration can be a lot of fun, but you just need to prepare both your body and your mind. Also, men can enjoy being on the receiving end of anal play because they have a prostate. Just remember to thoroughly clean Dusk before passing it between you and your partner. You don't want to spread bacteria.

Silky Sash:

Whether you're the one who loves surprises or if your partner loves surprises, this silky sash is the perfect complement when you want to get a bit more playful. Also, combine it with box #2, the Tickler, and you're creating a whole boatload of sensations that will make for great extended foreplay. And, as I covered in #7, women don't just love foreplay, but biologically, they need it.
Takeaway? We-Vibe's Discover Gift Box really has something for everyone, no matter your gender, your sexual identity, or what gets you and/or your partner off.