4 Ways to Take Your Sexting to the Next Level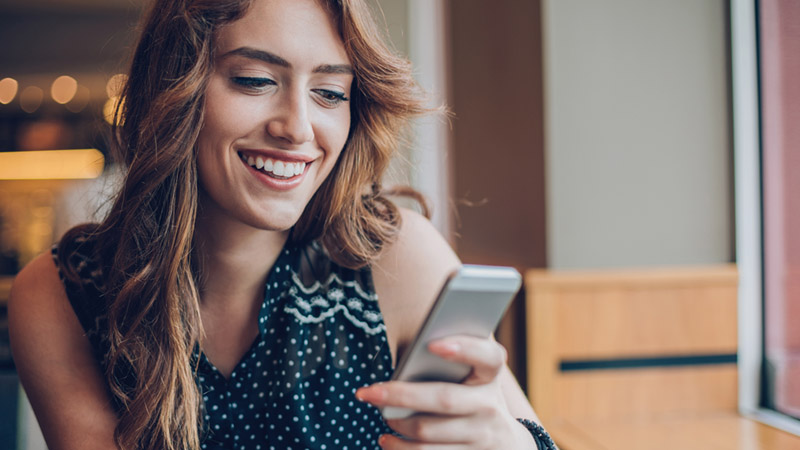 Of all the amazing ways recent technological advancements have positively affected our romantic relationships and sex lives, the innovation of sexting is inarguably one of the best. (Especially when you couple it with an app-enabled couples' vibrator. Just saying.)
Gone are the days when phone sex was merely two people speaking (and/or moaning) audibly to each other over a phone line. These days, images, videos, emoji and all kinds of other capabilities and gadgets factor in to help make flirting and pleasuring each other from a distance an amazing way to generate and fulfill sexual excitement.
But if you're looking to take your sexting from basic to unprecedented levels, here are a few ways to do so.
Do it in unexpected places, at unexpected times. Something that ramps up the inherent excitement that accompanies sexting sessions is when there's an element of surprise—when the action starts to ramp up seemingly out of nowhere, without warning. Try sending a surprise sext while you're out to dinner together with friends, or surprising your significant other with a mid-weekday sext session initiation message.
Just make sure they're not going to have the message pop up on their work computer during a presentation or something, though. That'll kill arousal real quick, at the very least.
Incorporate some role-play. Role-playing need not be exclusive to the bedroom. In fact, it can be a lot of fun to branch out, and one arousing way to do so is to incorporate role-playing scenarios and characters into your sexting regimen. If you both adopt characters and a storyline that you use in your sexting, it'll add some intrigue and ramp up the fantasizing component inherent in sexting. It'll likely help you and your partner get more into and invested in your respective characters.
And you can easily keep the storyline going seamlessly into the bedroom.
Get out of your dirty talk comfort zone. If you think about it, you'll probably find that you're more comfortable saying contentious or wild things via a text message than you are when you're speaking to someone face-to-face—and this can apply to dirty talk. So, next time you're sexting, surprise your partner by slinging some next-level dirty talk that they're likely not expecting. It'll probably lead to them matching your messages with some talk of their own.
Bring additional technology into the mix. Mobile technology is what makes sexting possible, and mobile technology is improving and extending to new things all the time. So if you're sexting with a partner from afar, you might want to incorporate some technologically advanced toys to the experience—something like the We-Vibe Rave or Nova, an app-enabled vibrator that can be controlled remotely by your partner.